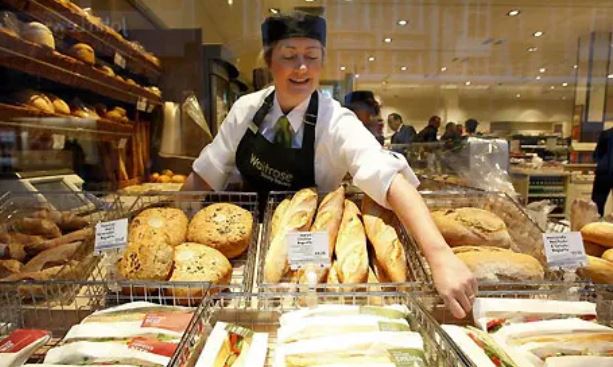 It might seem like a perverse time to be launching an experiment in upmarket retailing, as the recession encourages shoppers to trade down to cheaper stores and cut down on extravagant spending. But Waitrose's managing director, Mark Price, couldn't be more chipper as he surveys the morning trade at the retailer's first ever convenience store, in central Nottingham.
"Fantastic! Look at 'em pouring in," he exclaims, as he greats customers curious to find a Waitrose in the city's Trinity Square – appropriately enough, the new 6,000 sq ft unit stands opposite the local branch of John Lewis, Waitrose's parent group.
Served by nine bus stops and a stone's throw from both the Victoria shopping centre and the busy drag of Clumber Street, the new Waitrose seemed to be pulling in plenty of punters shortly after it opened today.
Price acknowledges that the group has lost its share of overall food sales – as registered in this week's latest TNS Worldpanel research – but says it has matched last year's 4.2m transactions at its tills.
He says the main reason for Waitrose losing market share is that customers are choosing cheaper options – mackerel instead of cod, chicken thighs not than breasts – rather than shunning the group's portfolio of almost 200 stores. Waitrose has acted to keep itself competitive, upping the number of items on promotional offers and pegging the cost of basic goods to rival supermarkets' levels. Price has a team scouring the Tesco and Sainsbury's websites every week to check the cost of 12,000 items to make sure Waitrose is charging no more than 1p or 2p more.
Owned by its partners and free from the need to appease City shareholders, the John Lewis group can allow Price and his team to take a long-term view.
"My goal is that at the end of this downturn, Waitrose will be a better and stronger business," Price says. His aim is to double the group's size over the next decade, and the convenience store project is part of an expansion strategy that also involves mid-sized "market town" stores and an international experiment starting with an outlet in Dubai, which opened a month ago.
Rather than replicate the same model as Tesco Express, Sainsbury's Local and Marks & Spencer Simply Food, Waitrose has put its emphasis on fresh food, taking advantage of roughly 50% more floor space than typical convenience stores offer. Price says Waitrose's somewhat tardy arrival in the small-store market is a case of "last in, best dressed".
Perhaps the most striking innovation is the "time of day" counter that faces customers as they enter the shop: in the morning it offers breakfast options such as fruit, yoghurts and pots of cereal that can be taken straight to office desks. Later in the day, the bar serves up freshly prepared sandwiches and salads, before switching to scones and cakes in the afternoon. From 5pm, if offers the ingredients for a full evening meal: tonight you can buy sausages, mash and onions, all ready for you to take away and cook yourself. Tomorrow it will be a Chinese takeaway, the next day steak is on the menu; in all there is a 14-day rotation.
"These are not just ready meals," says Diana Hunter, Waitrose's store development director, who has overseen the convenience store project over the past year. "It's for customers in a rush but also those who are shopping for 24 to 48 hours, for people looking for new ideas but also for convenience and speed."
At the back of the store, a meat and fish counter manned by smartly dressed staff and a baking section cater for the "scratch cooks" who form a key part of Waitrose's customer base. The meat selection includes less fashionable cuts such as pork shoulder and brisket, while all the fish is filleted and ready to go.
Hot drinks, pies and a patisserie selection are available at the front of the shop, while elsewhere in the store customers can choose from 298 wines, pick up fresh fruit and vegetables as well as newspapers and magazines, or use smart cards to buy cigarettes, razor blades, paracetamol and condoms from a vending machine in the corner.
Some of the shop's early patrons in Nottingham today seemed pleasantly surprised at the extent of the products on offer, while locals who were already paid-up Waitrose devotees were mainly relieved they would no longer have to trek to Newark or Lincoln.
"There's been nothing in between," said Ian Kirkdale from Beeston. "This'll save some travelling time."
"I've wanted one for a while," added Betty Niblett, of nearby Carlton. "It's something a little bit special now and then when you feel like a treat."
Nottingham resident Martin Cox agreed: "It's probably on a par with M&S – people expect a different kind of quality, and if you're prepared to spend a little bit extra for quality stuff, people may shop here."
In fact, a desire to expand into new territory has been central to the convenience store plan. Price says 6 million people would shop in Waitrose if they could, and reels off a list of towns and cities they have yet to reach – Exeter, Ipswich, York, Durham, Liverpool, central Manchester.
Indeed, the local store in Newark was until 2004 Waitrose's northern outpost, reflecting the group's roots in the south east.
Picking up smaller premises is an easier way of growing the business than bidding against rivals for larger sites, Price says.
Waitrose is now gearing up to launch a second trial store in the Bristol suburb of Clifton; further ones will follow at a transport terminus and somewhere in London. If it works, Price wants to roll out the format in 2010 and has grand hopes for "hundreds and hundreds" of outlets.
How it fares depends on the reaction of customers – and for all the positive noises today, there were already some minor quibbles. Christopher Tennant's evident enthusiasm was tempered by one small disappointment: despite a range of 6,200 products in store, he could not find his favourite Normandy butter with embedded salt crystals. Not that his wife, Madeleine, was complaining. "It's like shopping in Harrods," she beamed.