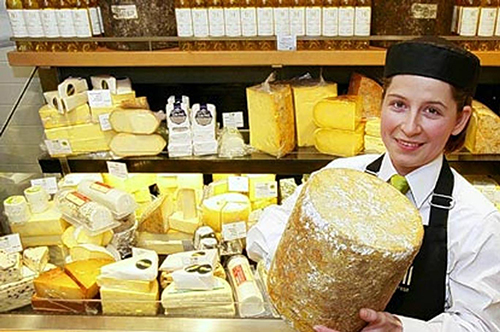 Diana Hunter, Waitrose head of merchandising
London's battle of the food halls intensified today as John Lewis opened its first major food emporium in its flagship Oxford Street store.
The 17,000 square foot basement shopping area will stock Waitrose groceries and fresh food as well as its own exclusive lines.
The launch follows that of US-owned Whole Foods Market – London's first organic superstore – in Kensington in June where there are more than 400 cheeses on sale on the ground floor. It also comes after a huge overhaul of Fortnum & Mason's food hall to mark its 300th anniversary this year. Waitrose's Marylebone store has been transformed to make it more in tune with Londoners' shopping habits.
Noel Saunders, managing director of John Lewis in Oxford Street, said the new food hall would be more accessible than those at competitors such as Harrods.
"We set our standard at the premium level. Harrods is more at the luxury end," he said. "It would be helpful to come up with a parallel but there really isn't one in the UK."
The Italian-designed space will have its own cheese room with 102 varieties, a salad and sandwich bar, meat and fresh food counters, a takeaway traiteur with 30 ready cooked dishes, a chocolatier and a florist.
The food hall is about as big as a medium-sized Waitrose. Some 200 staff will work in it, including 19 experienced food specialists.
Mr Saunders said: "People really want to be able to talk to a specialist. They can come in here and say, 'I'm having boeuf bourgignon tonight. What's the best wine and what's the best cheese to have with that?'"
The opening at 11am today marks the virtual completion of a £64 million renovation of the 143-year-old shop. The food hall is on the site of the former lighting department. Andy Street, managing director of John Lewis department stores, said it would be aimed at Oxford Street shoppers who currently had a " pretty gruesome" choice at lunchtime and office workers and residents who wanted to some pick up shopping on the way home.
He said its look was inspired by the food halls of Tokyo's department stores and Parisian food boutiques. The concept will be repeated at other major John Lewis branches, with Cardiff next in line.
There is a delivery service within the congestion charge area, with a £3 fee for deliveries of £100 or more.
It will also be possible to shop during the lunchbreak, "park" the food in store and pick it up to take home at the end of the working day.
Diana Hunter, Waitrose head of merchandising, said there would be an emphasis on seasonal produce, with a monthly customer guide to what is in season.
Pricing will be the same as in standard Waitrose supermarkets and organic produce is expected to make up about seven per cent of sales.